Instruction Approach
Our Mission
To provide our students with a methodical, comprehensive approach to learning their instrument, the music they love to play, and the context in which to play it.
School of the Blues Instruction Approach
One of the great joys of playing music is to perform with other musicians. Your instructor will provide you with the tools and knowledge needed to share your music with others. Our highly experienced teaching staff are also highly experienced professional musicians and published authors. Unlike other teaching environments, School of the Blues and its instructors provide you with the real-life training that will help you to be successful at whatever skill level you aspire to take your playing.
Our Success Story
Our success lies in each and every student enjoying the learning process and having the feeling of fulfillment and joy brought on by playing an instrument. Whether you're a closet musician or aspire to be the next biggest and best, we look forward to the opportunity to help you find your voice in music.
Owner/Head Instructor David Barrett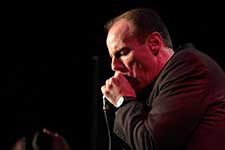 David Barrett is the founder of School of the Blues and along with his wife Sharon Barrett, is the owner of School of the Blues, the Harmonica Masterclass Company, and BluesHarmonica.com. His private lessons, workshops, and online instruction has reached thousands of harmonica players around the globe. Through Mel Bay Publications, David is the most published author of blues harmonica lesson material in the world. Along with his accomplishments as an instructor, David has almost three decades of experience designing music programs and managing teaching staffs. School of the Blues is a realization of a life time goal to create a professional collaborative environment for teaching the music he loves to play and teach... the blues.