Bass Lessons
Frank De Rose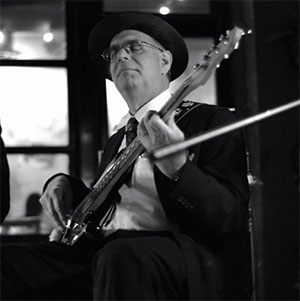 Frank De Rose, a fixture in the Bay Area blues scene, brings his 25 years of blues bass playing experience to the School of the Blues. During those 25 years Frank has been a band member with many of the areas top blues performers. That list includes Gary Smith, Tommy Castro, Mark Hummel, Kenny Ray, John Garcia, Mike Shermer, and Sid Morris. Through those associations Frank was in the position to be asked to provide his bass playing skills to a long list of national touring blues performers. That list includes Snooky Prior, Otis Rush, Johnny Heartsman, Little John Chrisley, Nick Gravenites, Andy Just, Chris Cain, Rusty Zinn, Jr., Watson, John Garcia, David Barrett, Jackie Payne, Larry Davis, Mississippi Johnny Waters, Johnny Adams, Luther Tucker, Andy Santana, "Might" Mo Rogers, Eddie Shaw, Mike Wheeler, Nellie "Tiger" Travis Curtis Salgado and many others.
A short list of Frank's notable performances include several San Francisco Blues Festivals along with several of the San Francisco Battle of the Harps. Frank also has multiple performances at the Monterey Blues Festival, San Jose State Fountain Blues Festival, and the JJ's Blues Festival. Frank also has appeared at the Santa Cruz Blues Festival, San Jose Jazz Festival, The Legends of Chicago Blues at Villa Montalvo and the California Blues Legends show.
Frank is also a published author with Mel Bay Publications (click here to see his books).
Discography

Movie Sound track "Oh My God! It's Harrod Blank," a documentary film produced by David Silberberg
We Are The Blues, School of the Blues All-Star Band Live in the Studio!
Bless My Axe, Kenny Ray, Tone King Records
Best of Blue Blue Dog Records, Kenny Ray
Get It, Kenny Ray, Tone King records
In All My Life, Kenny Ray, Jackie Payne and Jimmy Morello, JSP records
Way Down in Memphis, Kenny Ray, tone King records
Day in the Life of a Blues Man, Jackie Payne, JSP records
Got Harp If You Want It, Various Artists, Paul Durkette, Blue Rock'it Records
Complete Classic Chicago Blues Harp, David Barrett, Mel Bay Productions
Testimonials

"In the middle 80's Frank De Rose and I hosted a Jam session. We did this every Sunday for about 4 years. Frank would make tapes for me. He knew what I needed to work on and would bring me some music that would help me to learn.

He taught me a lot. I became a better player during that time thanks to Frank's influence and inspiration. Working with Frank gave me a more solid foundation to build on. He did the same thing for a lot of young musicians who came to jam. He plays with just the right feel for whatever song or style of Blues he's playing at the time. I'm glad to hear he's going to be teaching, after all, that's what he's been doing all along.

Frank Rocks!" Tommy Castro
"Frank can rock the bass with the best." Mark Hummel
"The foundation of any blues groove starts with a bass line and the bass player has to lay it down solid, straight, and steady and Frank is a modern master" Gary Smith
"Frank is one of my favorites at backing up the harp. Frank knows the dynamics and feel (of the blues) that only comes from the experience of working with a multitude of blues players." R.J. Mischo
"Frank is the kind of Bass Player that lays down a serious groove. It is a pleasure to record or gig with Frank, a true Old Style bass player." Kenny "Blue" Ray
"Frank is as solid as it gets, both in his music and his approach to making great players out of anyone who has the dream to be one." David Barrett
"Frank creates an atmosphere of discovery in his lesson time. He helps open my ears to all kinds of music so they can be incorporated in my playing. Frank gives honest feedback and builds self-confidence. The lessons are a joy, not a chore."

"My playing has dramatically improved... I would like to thank Frank for the solid foundation instructed to me."

"Frank De Rose is an awesome teacher and bass player." Marcia Collins
"I came here with no experience at all and at my age (47) had some doubts I could learn the bass. My teacher [Frank De Rose] has shown me that it is possible to learn an instrument at any age if you do the work. I'm very satisfied with the program." Luis Altwer