Harmonica Lessons
David Barrett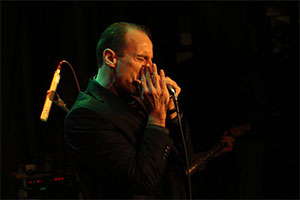 David teaches Skype/Zoom lessons weekdays, commonly from 9am to 5pm. These are one-hour, every other week (1st/3rd or 2nd/4th weeks) private lessons for $200 a month.
On top of your private lessons with David, tuition includes...
Lesson Material - Study songs, exercises, transcriptions... whatever is needed to help you advance.
Digital Recording of each Lesson
Subscription to BluesHarmonica.com
All you need are your harps (commonly the A Harmonica to get started) and the practice time to make it happen!
David Barrett Bio

David Barrett is one of the world's most celebrated blues harmonica educators... leading the way in every facet of blues harmonica education for thirty years.
The Early Years

Having played saxophone and trumpet as a youth, David already had a solid musical foundation before playing the harmonica at age fourteen. At age sixteen local harmonica legend Gary Smith took David under his wing as a private student. Gary also introduced David to the local blues jam scene and even invited him to participate is some of the local harmonica blowouts. By age eighteen David was studying music theory in college and started teaching harmonica at local music stores and institutes.
Author

By age twenty David had released his first book, Building Harmonica Technique, with one of the world's largest publishers, Mel Bay Publications. This book was the first serious blues harmonica method to be released in the market. David Barrett is now the world's most published author of blues harmonica lesson material, with over 70 book/CD sets and videos published.
David is also an active writer for various publications. David has written featured columns for both Blues Revue Magazine and HarmonicaSessions.com for over a decade.
Workshops

David is the founder and head instructor of Harmonica Masterclass Workshops. Founded in 1994, the focus of these workshops has been to make quality hands-on instruction available to the masses. Classes range in size from 20 participants to 250 participants, depending on program type and location. David also employs the top educators in the world for these workshops, such as Joe Filisko and Dennis Gruenling, as well as top artists in today's blues harmonica music scene.
David also teaches, judges and performs at other prestigious events, such as Hohner's World Harmonica Festival, Steve Baker's Harmonica Masters Workshop in Trossingen Germany and the annual S.P.A.H. Convention (spah.org)
Private Lessons

Since age eighteen David has been teaching blues harmonica lessons full-time. In 2002 David founded School of the Blues in San Jose, California... the first school in the world for the specific study of blues music. David teaches on average forty private students a month.
Performing and Recording Artist

David is a Grammy Nominated blues harmonica player (for his work on John Lee Hooker Jr.'s album All Odds Against Me) and performs regularly in the California Bay Area (San Francisco Blues Festival, Monterey Bay Blues Festival, etc.) and abroad (Chicago, Germany, etc.). Recently he played as a featured artist in the Mark Hummel Blues Harmonica Blowouts, alongside James Cotton, Charlie Musselwhite, Kim Wilson, and Mark Hummel. David has recorded three CDs: Serious Fun, We Are The Blues and the History of the Blues Harmonica Concert.
David has Worked or Played with:

Charlie Musselwhite, Mark Hummel, Lee Oskar, Rod Piazza, James Harman, James Cotton, Gary Smith, Andy Just, Mark Ford, Billy Boy Arnold, Jason Ricci, Rick Estrin, Paul deLay, Jerry Portnoy, Gary Primich, Howard Levy, Magic Dick, Tom Ball, Sonny Jr., John Mayall, Annie Raines, Paul Oscher, Phil Wiggins, Brendan Power, Sam Myers, Snooky Pryor, Steve Baker, Rob Paparozzi, Dennis Gruenling, Carlos del Junco, Mitch Kashmar, John Mayall, Joe Filisko, Lazy Lester, Kim Wilson, Kenny Neal, Peter ?Madcat? Ruth, Jr. Watson, Rusty Zinn, Nick Moss, Steve Freund, Johnny Cat, and John Garcia.
What students have to say about lessons with David Barrett

"As with most disciplines, skilled practitioners aren't too hard to find. On the other hand, finding a great musician who is also a gifted teacher is a rare gift. David Barrett is an outstanding teacher. He "hears" amazingly fast - he knows exactly what is going on inside my mouth, even when I don't. He is able to describe corrective actions or new techniques in multiple ways, finding a way so that I will "get it". He is willing to adapt to my pace and style of learning. But he also provides the discipline and motivation I need to push myself, and to focus on a small number of challenges at one time. He constantly pushes me just a little ahead of where I'm comfortable, and I have improved significantly in a very short period of time. I look forward to each lesson." Greg Heumann
"I was stuck in one of those ruts where I was playing the same old licks. In just a few lessons David Barrett not only took me to the next level but gave me the ability, confidence, and understanding to take myself to even greater levels beyond my expectations. David Barrett put me on the right track and offered the feedback necessary to point me in the right direction. His teaching style makes it easy for anyone to understand the instrument and improve, regardless of what level they are currently at!" Mark Fenichel
"My approach to the instrument, tone and overall quality of playing, acoustically and amplified, have improved vastly with Dave Barrett's teaching and Harmonica Masterclass workshops. In my opinion teachers don't get much better than Dave." Jeff Rosendale
"Thanks again for working me in for a lesson on July 26 when we were in Cal. I have now begun the long process of working on the ton of stuff you crammed in that two hours. I bet you saved me about 10 years or so. You have a real talent for communicating your vast knowledge." Bill Clifton
"After struggling on my own with mail-order material, I was fortunate to find David Barrett in Morgan Hill. I appreciated his ability to teach the techniques required to play the blues in a systematic fashion that balanced a formal music background with the improvised style of the blues. I made very rapid progress with David and recommend him without reservation to anyone seeking to improve their tone and technical repertoire. His books are the best at incorporating music theory and blues and are for those seeking a rigorous approach to learning the harmonica as an instrument." Dr. Steven Scates
"I use my journey into learning the harmonica as a metaphor for the learning process. I think it is good for my kids to watch me work at something, struggle, and then master it. I think that it helps my teaching of residents and medical students, reminding me what it is like to learn something that does not seem all that hard after you have mastered it. I know about good teaching and bad. You are a superb teacher. I, the student, am better for having spent time with you." Robert Byrd, MD, MPH
"My hour lessons with David Barrett are top notch. I can't imagine a better harmonica teacher anywhere. The material is so clear and useful, especially for the advanced and intermediate student. No one has the material to the extent Dave has. I mean, he wrote the books, literally." Jon Harl
"It is easy to waste passion and aptitude for music by struggling with cryptic learning material or lessons that are unfocused or untailored to the student. My lessons at School of the Blues [with David Barrett] have changed my efforts to the highest possible efficiency, and improvements have exceeded my hopes." James Baker (Advanced/Professional)
"I have played harmonica for 35 years and was a reasonably competent player before I took lessons from David Barrett. For a deceptively simple instrument, Dave has revealed intricacies of technique that I never knew existed, and in a short year has elevated my playing to new levels. He does it all with modesty and good humor, qualities not always associated with a great harp player!" George E. Bisharat (Professional)
"I originally started with David so I could learn a few acoustic blues numbers to play for friends at backyard barbeques. Since then a new world of harmonica playing has been opened up to me. What I once thought of as a cool, but limited instrument is now the means to the ultimate in musical expression. With Dave coaching you, the learning will never stop." Gary Hayes (Advanced/Professional)
Second photo by http://www.shorbo.com/. Thanks Shorbo.