Organ, Keyboard & Piano Lessons
Steve Czarnecki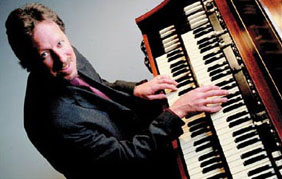 We no longer offer keyboard lessons at the school, but if you are in the Santa Cruz area we highly recommend Steve Czarnecki. You can read about him below and contact him directly at 831-429-9409.
Steve came to the Bay Area to attend Stanford University. After graduating with a B.A. in Psychology, he enrolled in the music programs at De Anza College and Hayward State while pursuing his career as a professional musician. In recent years, Steve has served as a staff accompanist at Cabrillo College in Aptos. He has taught piano and organ privately since 1976. He founded and directed the Jazz Jam Nite at the Kuumbwa Jazz Center in Santa Cruz for seven years. His years of performance have given him a wealth of practical musical experience while his formal studies have enlarged his knowledge beyond the limits of popular music. Steve's main objective in teaching is to help the student formulate and reach his or her own musical goals.
Steve is also a published author with Mel Bay Publications (click here to see his books).
A little bit of trivia: Steve also plays jazz guitar. He was once Stanley Jordan's teacher at Draper's Music in Palo Alto.
Performance Bio

Steve Czarnecki has performed professionally in the Bay Area since the early 70s. Over the years he's performed with artists such as Robben Ford, Mark Ford, Dave Garibaldi, Alphonse Mouzon, Kenny Rankin, Enie Watts and Barney Kessel. He was a founding member of the funk-soul band Spang-A-Lang. As the leader of his own band he has released four CDs: Two with his piano trio and two with his Hammond Organ group, Steve Czarnecki's Soul/Jazz Quintet. Fly Me to The Moon from the Soul/Jazz Quintet CD has been released by Capitol-EMI records on their best selling collection Dinner Party Two. The most recent recording, Soul Rendezvous, is playing on forty stations around the country and receiving rave reviews. Steve's groups have performed at the Monterey and San Jose Jazz Festivals and at KKSF's Catch a Rising Star Concert Series.
Student Quotes

"I just wanted to let you know how much I enjoyed the time I spent at School of the Blues. It was just what I needed. I achieved my primary goal and then some. When I found you at the San Jose blues fest I was looking for a blues piano instructor. My primary goal was to learn to play the blues and to wean myself from only being able to play by reading music. Steve helped me accomplish that and much more.

I also appreciate your time in orchestrating the group concerts and jams. Those were great practice/experience and so fun to meet the other students. I've made quite a few friend there and hope to continue jamming with some of them.

Also, I never completed one of those teacher evaluations, but I wanted to let you (and Steve) know that he is a great teacher. He is obviously highly skilled and knowledgable on keyboards and blues, but also, has a great teaching style. He is supportive, flexible, instructive, gives good feedback, specific instruction and is generally a nice guy. He was always flexible to explore the kinds of things I wanted to do as well as making sure I was getting some of the basics I needed. And was able to coach me on playing in a group setting." Bev